Carin Dickson is the founder of Artescape, a company that provides multi dimensional art installations and visual landscapes for dance floors and events. You might be familiar with seeing Artescape pieces, providing decor for festivals like Boom Festival, Psy-Fi Festival, Origin Festival and more.
When did you become interested in art and psytrance festivals?
I've been interested in art since I can remember. All my life.
I went to my first trance party in 1997 in Johannesburg at the Lion Park, and I felt like I found my tribe.
Only after a few years of attending various parties and festivals and seeing the kind of décor up, I felt I had something more to offer.
This eventually led to me painting backdrops in 2000. For the the first 5 years of painting backdrops, it was just a side interest and renting them out to parties only got me tickets into events.
How has your artwork evolved? Are there any artists who influenced your style?
Well, it started with just myself hand painting backdrops with a paint brush in a small space. I then discovered airbrushing onto stretch fabric, and needed more space to spread out and make a mess. That involves compressors, sprayguns, ladders, and numerous other tools.
There are a few artists who have influenced me. However, I feel I have developed my own style entirely, but have always been inspired by artists like Luke Brown, Xavi Panneton, Alex Grey and some older artists like Patrick Woodroffe, Dali, MC Esher and various other surrealist artists.
You've been able to expand Artescape and grow a team.
Well, with the need to expand to cater for the high demand came the need for help, and training up whoever was keen to get involved.
I love being able to have a big vision and have a team that can all pull it off without me being much involved in the actual production. As well as I think it's awesome seeing artists who learnt from me, branch off and create their own stuff.
It re-inspires me and also challenges me to keep one step ahead!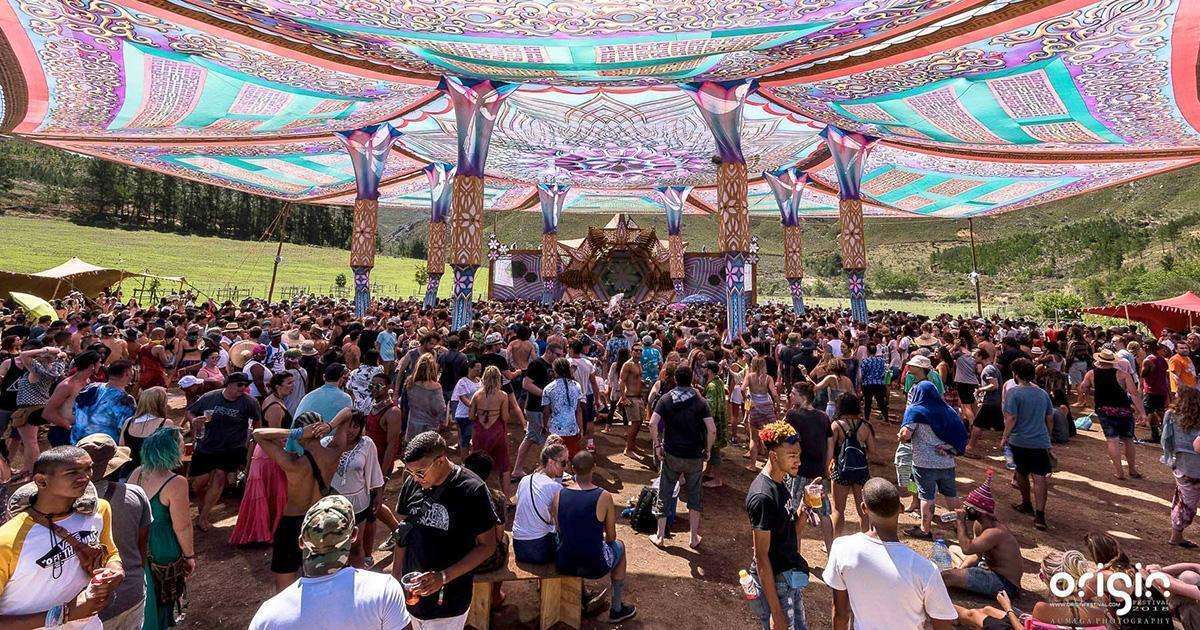 Which festivals have you worked with?
In South Africa, I've done them all pretty much, mostly in Cape Town. Some familiar festival names include Origin Festival, Vortex, Alien Safari, Rezonance NYE Festival, Groovy Troopers and more.
Abroad I've done a bunch. Some of the big names include Boom Festival (Portugal), HillTop Festival (India), Ozora Festival (Hungary), Universo Paralello (Brazil), Glade Festival (United Kingdom), Rainbow Serpent (Australia), Tribe (Brazil), Monegros (Spain), Hadra Festival (France), The Experience (Thailand), Black Moon and Half Moon (Thailand), Universal Religion (Nepal), Airbeat One (Brazil), Sunshine Festival (Japan)
I've also done some smaller gigs in countries like Lebanon, Bahrain, Panama, Greece, Ireland, Mexico, USA, South Korea and more. A lot of countries and festivals!
Do you create designs for outside the trance scene?
Not really. I have been branching off slowly into more commercial events internationally like Monegros in Spain which I previously mentioned. But that's it really… for now.
Does good decor add to the festival experience?
I think over the years, with décor becoming more impressive and with more effort being put into it has made it a huge part of the experience. The people who attend festivals actually notice when its good and bad, or present and not.
I personally feel I create environments for people to play in, and strongly believe that the visuals on the dance floor and the intention behind the artwork (colours/ imagery/symbols) plays a huge role on the general experience of the dance floor.
What are some of the challenges you face when commissioned by an overseas festival?
The language barriers faced when communicating with foreigners, the lack of the right materials and tools, and being limited to what I can take on a plane!
Tell me one fact about your job that would surprise people? Do you have any unattained career goals?
I design dance floors on A3 pieces of paper as pencil drawings… using a protractor and a ruler. I never saw myself becoming what I am today. The next goal is usually to just out-do the last project I did.
However, I feel my biggest limitation is always budget and money. As a result, I would still like to get into some really large events with big budgets, that's what I'm aiming for next!
Related posts
Newsletter Updates
Fill in your information about and receive the latest updates on events in Cape Town. We won't spam you, promise.
Follow Psymedia on Social