Are you getting ready to attend your first music festival? If so, you're likely feeling a bit overwhelmed with all the preparation that comes with a large-scale event. Don't worry – you've come to the right place!
This article provides an essential checklist to ensure you're fully prepared for the festival experience. From packing all the essentials to understanding the event's policies and procedures, this checklist will help make sure you have the best time possible at the music festival.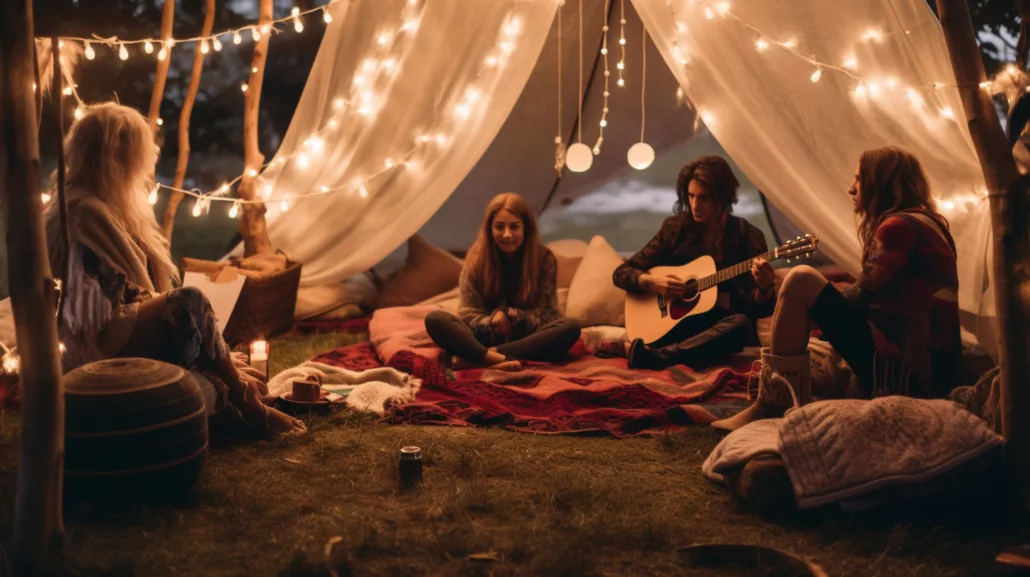 FESTIVAL CAMPING CHECKLIST
If you're planning on sleeping over, setting up a proper camping area and have the correct supplies is crucially important, and should be one of the first steps when arriving. Below are festival essentials if you want a good night's rest.
Tent
The first item on our music festival checklist is a good tent. You will want a tent that is lightweight and easy to pitch and pack up at the end of the event.
Pop-up tents are incredibly convenient for music festivals due to their quick and easy setup. These tents usually come with a spring-loaded frame that pops open when you unpack them, taking seconds.
Dome tents also offer a good balance between space and portability. They are relatively easy to set up and provide better stability and wind resistance compared to pop-up tents.
The Coleman Sundome Tent is my go-to tent for festivals and comes in 2 – 6 person size. It is weatherproof, wind and rain tested and can be setup in less than 10 minutes. It's dealt with strongs winds without any issues, provided you set it up correct!
Camping Hammer
A high-quality camping hammer will come in use for pitching your tent, but will also be useful when putting up other accessories around your camping area. A camping hammer can have multiple uses beyond tent setup. It can be handy for pounding in other stakes, such as those used for shade canopies, hammocks, or clotheslines. Additionally, it can be used for tasks like hammering pegs into the ground to secure tarps or creating a makeshift shelter using poles and ropes.
Cable Ties
Bringing cable ties to a festival can be useful for organization, repairs, and improvisation. They help keep cords and wires organized, can serve as temporary fixes for broken equipment, and assist in creating improvised solutions like hanging tarps or securing items. However, check the festival's guidelines as some may have restrictions on certain items, including cable ties.
Sleeping Bag
A premium sleeping bag will allow you to sleep at festivals much better, and even at airports during lay-overs if it comes to that. You want something that is lightweight and keeps a good temperature. The Kelty Cosmic 20 is affordable and ultralight for backpacking. It is designed for three-season camping, offering reliable insulation in temperatures as low as 20 degrees Fahrenheit / -7 degrees Celsius.
Camping Mattress
Investing in a Therm-a-Rest self-inflating mattress for music festivals is a worthwhile decision due to its comfort, convenience, and durability. It provides added cushioning and insulation, making sleep more comfortable. The self-inflating feature makes setup and storage easy, while the mattress's insulation and durability ensure long-lasting performance in various camping conditions. The XX-Large version is big enough to fit two full-size adults. If you're attending a longer festival (3 days or more), this is a must!
Camping Pillow
Therm-a-Rest also make a fantastic camping pillow that makes it feel like your head is resting on a cloud. It's ultralight and packs down which makes it perfect for backpacking and festivals. It's also available in 13 different designs – whatever tickles your fancy!
Trash bags
It's important to be a responsible festival attendee, so going up with a bunch of trash bags is important. You can purchase them for very cheap. Take up extra to encourage your tent neighbours to partake.
Head Torch
Festival areas and walkways and generally poorly lit, that's why it's important to have a head torch to navigate during the night easily. The BioLite HeadLamp 200 Lumen head torch can easily be recharged via microUSB and has 40 hours of light on time.
Camping Lantern
While a head torch is sufficient for one person, a camping lantern will provide additional lumens that can light up an entire camping area. The UST 30-Day Duro LED camping lantern is 700 lumens bright, can be hung downright and is weather resistant (because we've all left a light outside before).
Camping Chairs
It might not be the risk spending too much on camping chairs that could get stolen at a festival, but the Kijaro Dual Lock Portable Camping chair is affordable enough and provides decent comfort for the price. It's also quick drying and has large cup-golders.
Lock for tent
It's up to you what type of lock you want for your tent. Combination locks are a lot easier to use in comparison to a key, which is likely to disappear during a music festival. Sure Lock have TSA approved locks which come in a pack of 4, that can also be used for your backpack and other luggage.
FESTIVAL PERSONAL CARE LIST
While you might suck it up and not put personal care too high on the list at music festivals, it's important to have the correct clothing and personal hygiene products for the duration.
We have included a bunch of products below, besides your personal preferences which will include a change of clothing, underwear, slip-slops, extra socks, swimming costume, insect repellent, a warm jacket, umbrella, sunglasses, scarf/hat, deoderant, eye drops, medication, lip balm, chewing gum and vitamin pills.
Umbrella
An umbrella will protect you from the suns UV rays and the rain, plus allow you to be identified in large crowds by your friends.
Hand sanitizer
Music festivals aren't the most hygienic places to start, so a waterless hand sanitizer will help you keep clean before and after eating meals in the food court, going to the public toilets and at the festival bar.
Rehydration Packs
If you're dancing or consuming alcohol, chances are you'll benefit from a rehydration pack containing electrolytes during a music festival. Since you're drinking a lot of fluids, you'll be flushing out a number of important salts in your body. Don't forget this off your festival checklist!
Magnesium supplements
If you suffer from stiff muscles or jaw-clench at music festivals, magnesium supplements will help alleviate the symptoms somewhat. Just take them during the festival and you should feel quite a bit better than usual!
Earplugs
Music festivals are incredibly loud areas, and sleeping can be troublesome. A set of earplugs will allow you to sleep a bit easier, leaving you refreshed for the next day of festival. Mack's Ultra Soft Foam Earplugs include 50 pairs in the box and will reduce noise by 33dB. More expensive brands like Eargasm or EARaser are worth it. Ear plugs are another essential – don't forget them off your music festival checklist.
Biodegradable soap
If you've attended a music festival, chances are you've skipped the shower queue and found an alternative source to clean in. However, it's important to not ruin the land, and a biodegradable soap is crucial for not harming the environment.
Wet Wipes
Most definitely one of our favourite festival hacks, wet wipes can be used to clean your face, body, services and devices at any given point. They'll keep you refreshed without having to go for a shower or wash your face. The ones below are unscented and feel great.
Sunscreen / Sunblock
Protecting yourself from the sun at festivals is important. You'll be dancing in the sun for hours, and chances are you won't realize the extend of your sunburn. Hawaiian Tropic AntiOxidant+ Sunscreen Lotion is our favourite at the moment and is rated SPF 50 Broad Spectrum.
Condoms
If you're sleeping with a partner or just a random hook-up at a festival, having condoms and practicing safe sex should be a priority. You can purchase them for cheap, and it will save you unwanted festival pregnancies, like at Woodstock 1969.
Eye Drops
Music festival venues in the outdoors can sometimes be dusty with a lot of wind. Your eyes can generally take quite a bad beating. Having eye drops on hand to moisturize your red-eyes can be quite a lifesaver!
Quick-dry towel
A microfiber travel towel will allow you to shower and clean at music festivals without having to worry if your towel will dry quick enough. Youphoria's towel is super absorbent and literally dries in seconds. Plus it comes in a bunch of neat colours too!
FESTIVAL FOOD & BOOZE TIPS
If you're planning to pack your own eat and drink for the weekend, there are a number of products that will make your music festival experience just a bit better.
Coolerbox
We love the Igloo Maxcold Quantum 52 Cooler because it fits a ton of food and drink, plus it can keep everything cool for up to 5 days. It includes a set of wheels, which makes easier to transport around festival grounds.
Camping Flask
In general, you aren't allowed glass in a festival area and you should decanter all your drinks. A camping flask like the Hydro Flask Rocks Cup is made from stainless steel and is vacuum insulated. Better yet, it allows you to make cocktails on-the-go!
Portable Ashtray
If you're a smoker, making sure you don't your cigarette butts littered all over the festival grounds is an important consideration. A portable ashtray will allow you to throw away butts without having to find the nearest ashtray – which are usually lacking at festivals.
FESTIVAL TECH ACCESSORIES
Aux Cable
Everyone needs an aux cable to make the ride more fun, right?
Jumper Cables
Once you've driven to enough festivals, you're bound to require jumper cables at some point. Make sure you have them on hand, instead of awkwardly asking someone at a festival on the last day. This is one of the festival essentials people forget to check before making a trip.
Power Bank
A portable power bank will allow you to charge a number of devices at the festival including your cellphone, head lamp, camera and more. You might also need a working phone to get home.
Portable Power Station
The bigger brother of the power bank, a portable power station will give you a large amount of energy to power up your campsite lighting, charge radios and cellphones, medical equipment and more. It adds a bit of extra luxury to a festival experience, especially if it's an all-weekender.