Welcome to the wonderful world of glamping in the Western Cape of South Africa! Here you will find a unique and luxurious camping experience, nestled in the beauty of the lush landscape and breathtaking scenery of the Western Cape.
With a variety of options available, including safari tents and beachfront villas, glamping in the Western Cape offers the perfect blend of adventure and luxury. Whether you're looking for an unforgettable romantic getaway or an exciting and educational family vacation, you'll find the perfect glamping spot here in South Africa's Western Cape.
From the vibrant cities to the wildlife sanctuaries, this region is brimming with activities and attractions that will keep you entertained for days. There truly is something for everyone here. So, what are you waiting for? Start planning your glamping adventure in the Western Cape today!
Glamping is a type of camping that combines the traditional outdoor camping experience with the luxury and convenience of traditional hotel amenities. Glamping is an ideal way to enjoy the great outdoors without sacrificing comfort.
Glamping sites typically include amenities such as air conditioning, en-suite bathrooms, cozy beds, and even private chefs. Glamping provides a unique and unforgettable experience that is sure to create lasting memories.
If you're a bit scared of testing the waters with glamping, be sure to also check out our best weekend getaways near Cape Town which is perfect for couples, groups and families.
Southern Yurts
Southern Yurts beckons guests to a high-quality, stylish escape immersed in the natural beauty of its surroundings, ensuring a memorable and comfortable experience. Each unique accommodation, complete with private facilities, invites guests to connect with nature without sacrificing luxury. Wood-fired hot tubs, linen, towels, and basic supplies are included, setting the stage for creating lasting stories and cherished memories.
Operating with a strong ecological conscience, Southern Yurts embraces sustainability in every detail. Firewood is sourced from alien eradication efforts in Botrivier, and accommodations are constructed from upcycled materials, including new wood from Western Cape alien trees. Yurt canvas covers are stitched by local South African companies committed to supporting local industries. The accommodations feature biodegradable soaps, shampoos, and conditioners, while water is responsibly sourced from on-farm springs and reused, contributing to natural filtration and river system conservation.
Hosts Kate and Tobin are praised for their exceptional hospitality and attention to detail. Their commitment to guest satisfaction is evident in providing clear directions, settling guests in, and allowing them to fully immerse themselves in the serene surroundings. The passion, creativity, and hard work invested in creating a welcoming and comfortable space are reflected in every aspect, from a well-stocked kitchen to thoughtful trail markers and tasteful decor. The definitely have a desire to return – Southern Yurts as a remarkable getaway crafted with care and dedication.
Distance from Cape Town: 2 hours
More info: Booking.com
---
Dwyka Tented Lodge
Located in the heart of the Sanbona Wildlife Reserve, Dwyka Tented Lodge is an ideal glamping spot for those seeking an authentic safari experience. The lodge consists of nine luxury tents that are designed to blend in with the surrounding landscape. Each tent features a private deck, an outdoor shower, and a large bathtub.
Distance from Cape Town: 3 hours
More info: Booking.com
---
Camp Conoe
Perched atop a scenic peak on the Boschendal wine estate, Camp Canoe offers a transcendent glamping experience just 45 minutes from Cape Town. Seven secluded luxury tents, fully equipped and boasting panoramic views, provide an escape from the urban bustle, inviting guests to tap into the stillness and beauty of nature. A recent engagement celebration attests to the camp's enchantment, with personalized service, sumptuous lodgings, and breathtaking views from a giant hammock overlooking Cape Town, making Camp Canoe a cherished memory for visitors.
Camp Canoe, an idyllic glamping retreat, promises a unique fusion of luxury and wilderness in the Western Cape. As detailed by delighted guests, the well-appointed, fully secluded tents offer a comfortable haven amid the natural surroundings, complemented by friendly staff and thoughtful touches. The camp's charm extends beyond the tents to include personalized surprises, such as romantic proposals, and indulgent experiences like mobile massages. With its rugged road adding a touch of adventure, Camp Canoe stands out as a haven where unforgettable moments merge seamlessly with the tranquility and splendor of nature.
Distance from Cape Town: 1.5 hours
More info: Official website
---
Canvas Collective
Nestled in the Western Cape, Canvas Collective Africa, near Clanwilliam and just three hours from Cape Town, is a luxury tented camp born from the collaboration of founders Dez Lundy and Samara Stern. Their expertise in luxury safari camps and hospitality shines through, offering a unique retreat that blends style, comfort, and gastronomy.
Canvas Collective's Luxury Tents, entirely crafted from canvas, redefine glamping for the discerning adventurer. These upmarket havens feature state-of-the-art amenities, a spacious interior with a King-sized bed, and an en-suite bathroom with a rain shower and flushing loo. The camp's commitment to luxury extends to The Field Kitchen, a mobile restaurant where guests embark on an immersive culinary journey guided by sunshine and abundant biomes.
The meticulous interior design, featuring high-end furnishings, a soothing palette blending with nature, and eco-friendly materials, ensures a boutique hotel experience. Guests can enjoy nature watching, daytime adventures, and evening campfire storytelling under ink-black skies. With generous space, attention to detail, and a commitment to sustainability, Canvas Collective Africa delivers a condensed yet opulent glamping escape.
Distance from Cape Town: 3 hours
More info: Booking.com
---
The Storytellers Organic Farm
The Storytellers Organic Farm is an eco-friendly glamping spot located in the sleepy town of McGregor. The farm offers a unique glamping experience with its luxurious tipis and bell tents. The tents are equipped with comfortable beds, solar-powered lights, and a private outdoor shower.
Distance from Cape Town: 3 and a half hours
More info: TripAdvisor
---
Wolfkop Camping Villages
Wolfkop Camping Villages is situated on the banks of the Olifants River in Citrusdal. The campsite offers a range of glamping options, including luxury tents and cabins. Each tent features a private outdoor shower and a wooden deck with stunning views of the river.
Distance from Cape Town: 2 hours
More info: TripAdvisor
---
AfriCamps at Ingwe
AfriCamps At Ingwe is located in the Overberg region, just outside the coastal town of Hermanus. The campsite offers luxury glamping tents that are fully equipped with a kitchen, a bathroom, and comfortable beds. Each tent also has a private deck with a braai area. The famous Tsitsikamma Mountain Range and the surrounding valleys are nearby too for your Instagram worthy photos.
Distance from Town: 6 hours
More info: Booking.com
---
AfriCamps at Pat Busch
Located in the heart of the Breede River Valley, AfriCamps at Pat Busch Mountain Reserve provides a unique glamping experience, surrounded by majestic mountains and rolling vineyards. Each tent is equipped with a fully equipped kitchen, a private braai area, and an outdoor shower. The reserve also offers several activities, including mountain biking, hiking, and fishing.
Distance from Cape Town: 2 hours
More info: Booking.com
---
AfriCamps at Doolhof Wine Estate
AfriCamps At Doolhof Wine Estate is located in the heart of the Wellington Wine Route. The campsite offers luxury glamping tents that are fully equipped with a kitchen, a bathroom, and comfortable beds. Each tent also has a private deck with stunning views of the surrounding mountains.
The working farm and retreat is situated at the foot of the Bainskloof Pass, where sounds of the trickling Kromme River can be enjoyed alongside breathtaking mountain and vineyard views.
Distance from Cape Town: 1 hour
More info: Booking.com
---
AfriCamps at Stanford Hills
This beautiful area features green meadows and rolling hills, which is why AfriCamps has pitched its boutique tents in the foothills of the Klein River Mountain Range, overlooking a dam.
The boutique wine farm on which the camp is situated offers wine-tasting experiences and authentic country food made with farm-fresh vegetables plucked from the estate's garden.
Distance from Cape Town: 2 hours
More info: Booking.com
---
Kwelanga Bush Camp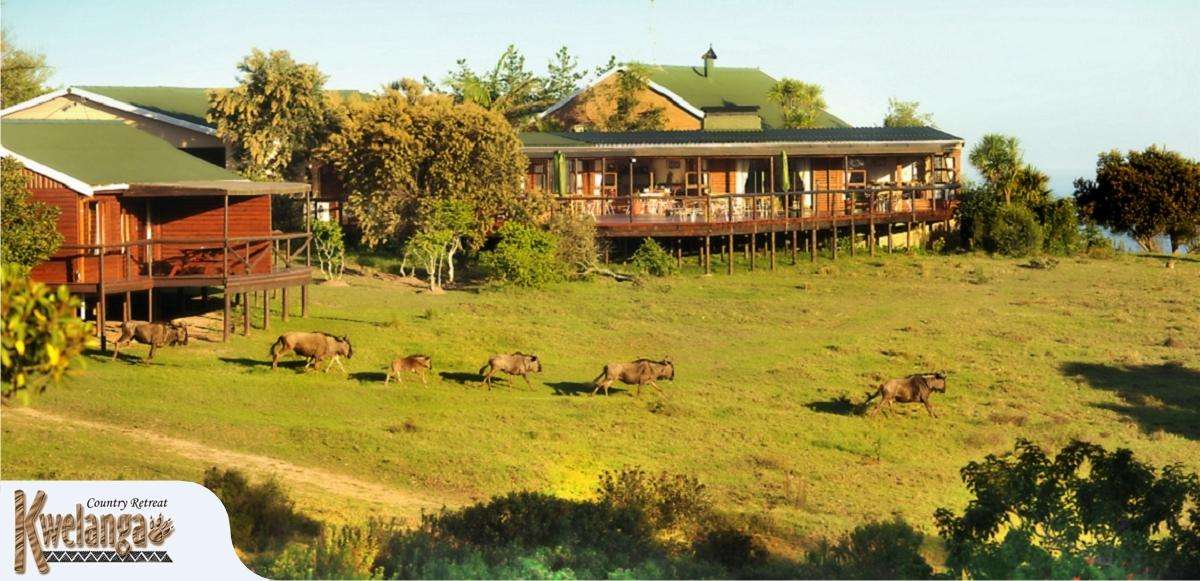 This luxury glamping eco-tent and retro caravan site in the Overberg features all the modern utilities including a fridge and freezer, gas stove top and utensils. However, there's also a fire pit and fire boma to use too. You'll be immersed in the natural beauty of the area, and Kwelanga has a selection of fresh herbs and chicken eggs for the guests to use.
Distance from Cape Town: 2 and a half hours
More info: Booking.com
---
Lancewood Tipi Lodge
The Lancewood TiPi Lodge is situated on a farm at the foot of the Langeberg Mountains, with spectacular mountain views and rolling farmlands around. This picturesque location is a private and secluded setting, perfect for rest and relaxation. It is also close to the town of Robertson, which is filled with exciting things to do, including stunning wine estates and great restaurants.
Distance from Cape Town: 2 hours
More info: TripAdvisor
---
Teniqua Treetops
Teniqua Treetops is a luxurious eco-friendly resort located in the lush indigenous forest of Knysna, Western Cape. The resort boasts ten treehouses built on stilts, each offering breathtaking views of the forest and the ocean in the distance. The treehouses are designed to blend in with the natural surroundings and are equipped with all the modern amenities to ensure a comfortable stay.
The resort also offers various activities such as hiking trails, bird watching, and a swimming pool with a sundeck. The owners of Teniqua Treetops have taken great care to preserve the forest, and guests are encouraged to explore and appreciate the natural beauty of the area. Teniquia Treetops mainly makes use of upcycled materials and minimizes energy usage and water wastage. Other entertainment includes swimming pools, trampoline and table tennis.
Distance from Cape Town: 6 hours
More info: TripAdvisor