As South Africa moves down to Level 2 of lockdown, restrictions on local travel have been relaxed. It's the perfect time to find a glamping spot in the Western Cape for a bit of fresh air away from the city!
Luxury camping – also commonly known as glamping, provides all the benefits of being outdoors in nature, but with a bit of extra comfortable living conditions (like beds, electricity, running water).
In the Western Cape, there are many glamping spots that take advantage of the natural beauty that surrounds it. Here are just a few of our favourite spots to escape lockdown!
If you're a bit scared of testing the waters with glamping, be sure to also check out our best weekend getaways near Cape Town which is perfect for couples, groups and families.
Subscribe to our newsletter and be the first to know about the best travel deals in South Africa. Plus, every month we giveaway free accommodation to one of our lucky readers.
Subscribe
Dwyka Tented Lodge
Built around striking rock formations between Cape Town and Montagu, Dwyka Tented Lodge embodies an atmosphere of seclusion. These luxury tents with private decks and heated jacuzzis, and are set in a horseshoe bend of a dry Karoo ravine in the well-known Sanbona Wildlife Reserve.
Distance from Cape Town: 3 hours
More info: Airbnb
---
The Storytellers Organic Farm
Located in the Northern Cederberg, The Storytellers Organic Farm offers two different luxury tent options – Dassie Den and Tortoise Terrace. The location offers world-class bouldering and climbing areas on De Pakhuys guest farm, hiking trails and swimming holes.
Distance from Cape Town: 3 and a half hours
More info on Dassie Den: Airbnb
More info on Tortoise Terrace: Airbnb
---
Wolfkop Camping Villages
Settled on the Olifants River just outside of Citrusdal, this beautiful location is the perfect starting point for exploring the Cederberg mountains, connecting with nature or just relaxing with friends.
Distance from Cape Town: 2 hours
More info: Airbnb
---
AfriCamps at Ingwe
If you're a fan of the Garden Route, AfriCamps at Ingwe in the Crags offers boutique glamping with elevated tents that will give you Instagram worthy photographs of Tsitsikamma Mountain Range and the surrounding valleys.
Distance from Town: 6 hours
More info: SafariNow
---
AfriCamps at Pat Busch
This AfriCamps in Pat Busch Mountain Reserve features 2000 hectares of mountain fynbos with streams, mountain dams, birdlife and various animals. The glamping tents are tucked away in the Cape fynbos and look out over a folded green valley with the Langeberg as a gorgeous backdrop. The possibilities on the property are endless and include walking trails, good bird watching, fishing and swimming.
Distance from Cape Town: 2 hours
More info: Airbnb
---
AfriCamps at Doolhof Wine Estate
A plethora of scenic elements is on show at this beautiful retreat, situated at the foot of the Bainskloof Pass, where sounds of the trickling Kromme River can be enjoyed alongside breathtaking mountain and vineyard views. AfriCamps at Doolhof Wine Estate is all about boutique camping on a beautiful working farm.
Distance from Cape Town: 1 hour
More info: Airbnb
---
AfriCamps at Stanford Hills
This beautiful area features green meadows and rolling hills, which is why AfriCamps has pitched its boutique tents in the foothills of the Klein River Mountain Range, overlooking a dam.
The boutique wine farm on which the camp is situated offers wine-tasting experiences and authentic country food made with farm-fresh vegetables plucked from the estate's garden.
Distance from Cape Town: 2 hours
More info: Airbnb
---
Kwelanga Bush Camp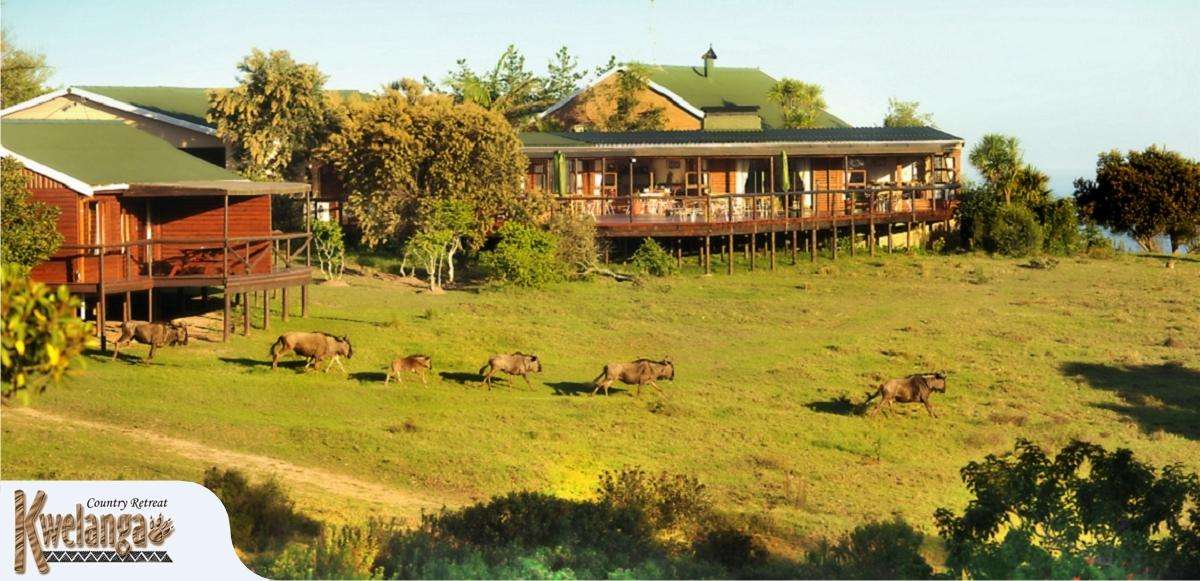 This luxury glamping eco-tent and retro caravan site in the Overberg features all the modern utilities including a fridge and freezer, gas stove top and utensils. However, there's also a fire pit and fire boma to use too. You'll be immersed in the natural beauty of the area, and Kwelanga has a selection of fresh herbs and chicken eggs for the guests to use.
Distance from Cape Town: 2 and a half hours
More info: Airbnb
---
Lancewood Tipi Lodge
The Lancewood TiPi Lodge is situated on a farm at the foot of the Langeberg Mountains, with spectacular mountain views and rolling farmlands around. This picturesque location is a private and secluded setting, perfect for rest and relaxation. It is also close to the town of Robertson, which is filled with exciting things to do, including stunning wine estates and great restaurants.
Distance from Cape Town: 2 hours
More info: Airbnb
---
Teniqua Treetops
An eco-friendly lodge located in the Garden Route, Teniquia Treetops mainly makes use of upcycled materials and minimizes energy usage and water wastage. There are beautiful walks in the indingenous forest, and by the river there are large pools for swimming. Other entertainment includes swimming pools, trampoline and table tennis.
Distance from Cape Town: 6 hours
More info: SafariNow
---
[wpws id=6]