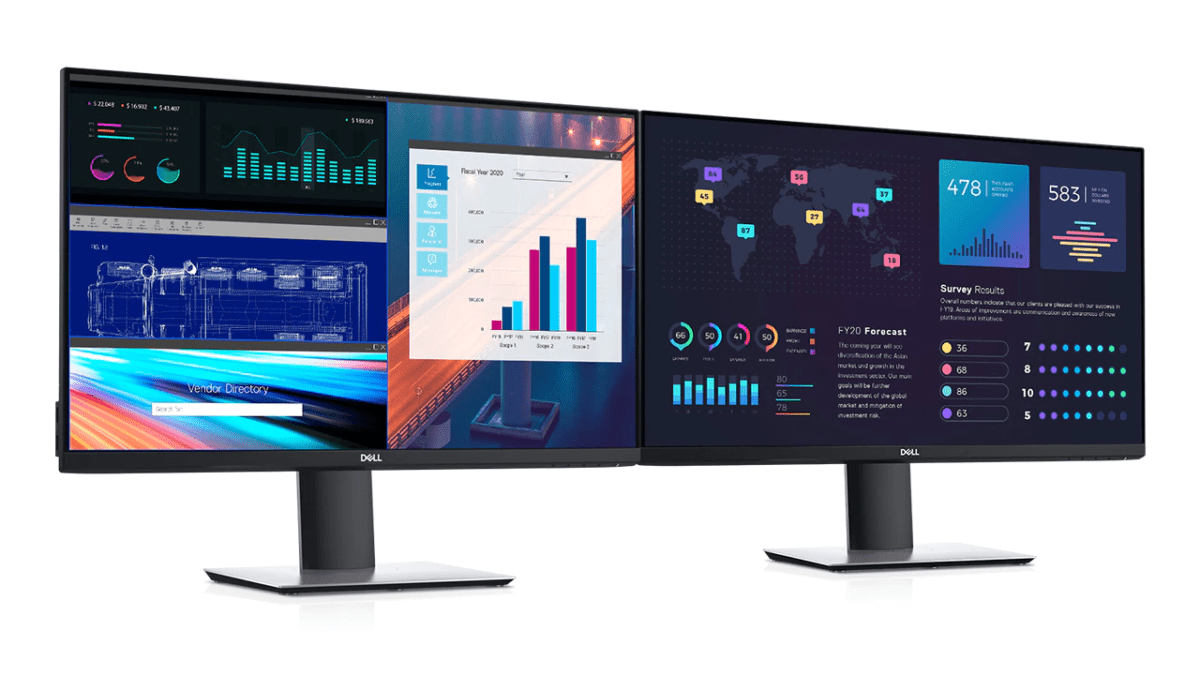 When it comes to DAW music production, a computer monitor is an important piece of hardware as it's something you'll be staring at for long duration during a production session.
What's even more important, having the right computer monitor setup will create the right workflow and you'll be able to work through your DAW as quickly as possible.
Before purchasing any of the screens below, take note of the inputs available on your computer or laptop. It will probably use HDMI, USB-C, DisplayPort (DP), DVI or the (old) VGA.
For a DAW, it's also important to get a high resolution screen so that you can fit more screen real estate. That's why we have selected monitors with a minimum resolution of 1920 x 1080.
If you choose a monitor with a high resolution, you will be able to fit a ton of plugins and visualizations on it. In some instances, you might prefer a dual screen setup for music production.
HEADS UP! Fantastic 27″ monitor deals on Amazon at the moment, which are perfect for a music studio including the AOC CQ27G2 27″, LG 27GL83A-B 27″ and VioTek GN27DW 27″. Hurry!
---
Comparison Table
---
Dell UltraSharp U2415 – Best 24″ For Music Production
The Dell U2415 might be the best 24″ monitor for music production as with its 1920 x 1200 pixel resolution you get more than 10 percent screen space on a 1080p HD monitor at an affordable price.
It features HDMI and DisplayPort connections, plus five USB 3.0 ports to connect devices. It has an ultrathin bezel, which means there's a less visible gap when using dual screen monitors in your studio.
Check Dell UltraSharp U2415 on Amazon
---
Samsung SF354 – Best 27″ For Music Production
The Samsung SF354 is the best budget-friendly 27″ for music production, as its an affordable 1080p monitor using a PLS display panel for under $180 and will look good in any music studio.
The monitor has a decent design, with a glossy finish and thin bezels. It's got a few useful Samsung features like Eye Saver Mode, which comes in handy when working long hours during a music production session.
Check Samsung 27″ SF354 on Amazon
---
Dell P2720DC – Best 27″ QHD For Music Production
If you want to bump up your resolution, the Dell P2720DC monitor is the perfect 27″ QHD for music production in terms of resolution, design and available features.
Right in the middle of HD and 4k, this computer monitor provides you with a 1440 (QHD) resolution fitted inside a 27″ screen – perfect for any music production desk while providing the screen real estate you need in your DAW software.
The bezels are minimal, and at the base there are built-in ports like USB-C, four USB ports, two DisplayPort 1.2 ports which turn out to be incredibly useful (for plugging in an external SSD, MIDI keyboard, etc).
The Dell P2720DC monitor comes at a premium, however its a great long-term investment for your music studio that should be good for a number of years.
If we were to pick, the Dell P2720DC would be the best all-round computer monitor for music production, and we personally use this in our home music studio.
---
Dell Ultrasharp U2720Q – Best 27″ 4K Monitor For Music Production
The Dell Ultrasharp U2720Q is our choice when it comes to the best 27″ 4k monitor for music production, without going for a large 30″ (or more) monitor.
It's pretty much got all the features you could want in a 27″ monitor, including a beautiful design, a 1,300:1 contrast ratio, built-in USB hub, crisp image but sadly only a 60Hz refresh rate.
Check Dell Ultrasharp U2720Q on Amazon
---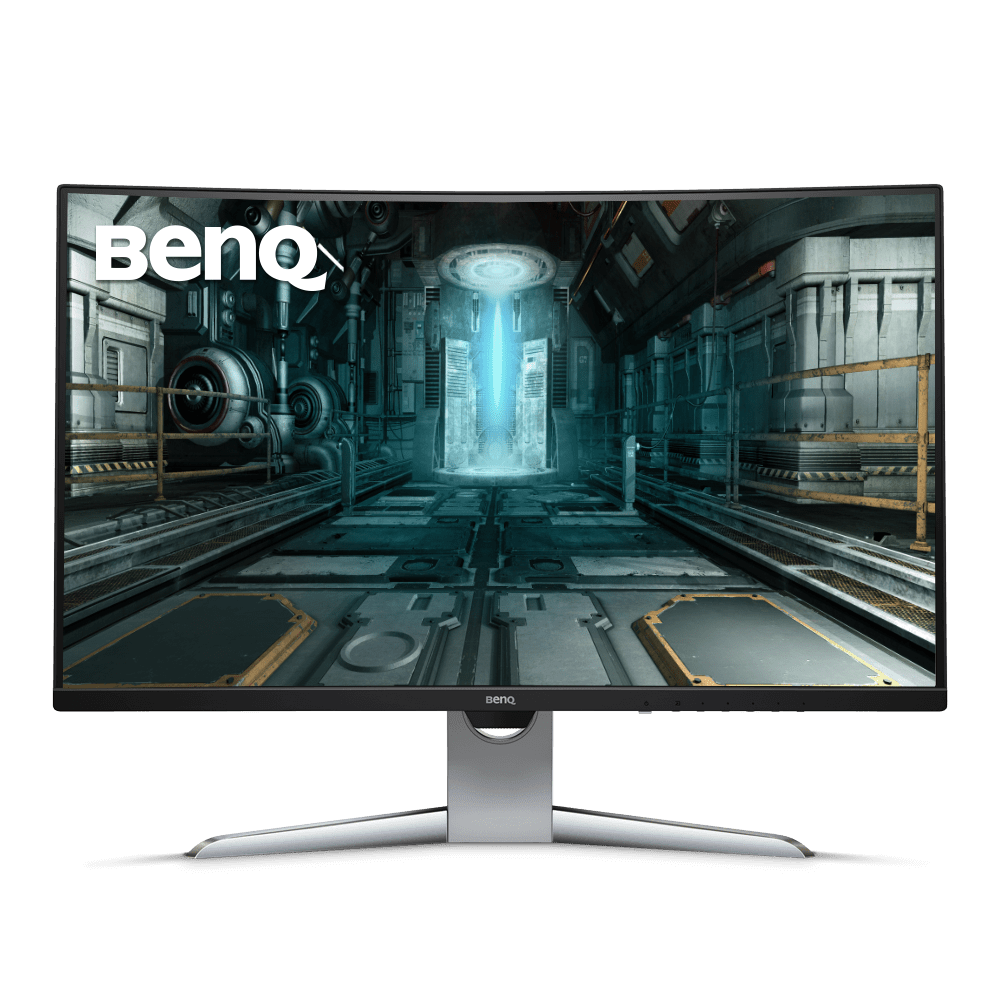 BenQ EX3203R – Best 32″ Monitor For Music Production
If you're looking for a monitor larger than 30″, the BenQ EX3203R is the best 32″ monitor for music production. It comes at an affordable price, with a resolution of 2,560 x 1440p and a respectable 144Hz refresh rate.
If you are someone who likes to keep your music production desk neat, this BenQ EX3203R can also be powered by a single USB-C cable only, which is an added benefit.
There's also HDR support, an immersive, 1800R curvature, and FreeSync which help keep things crisp.
---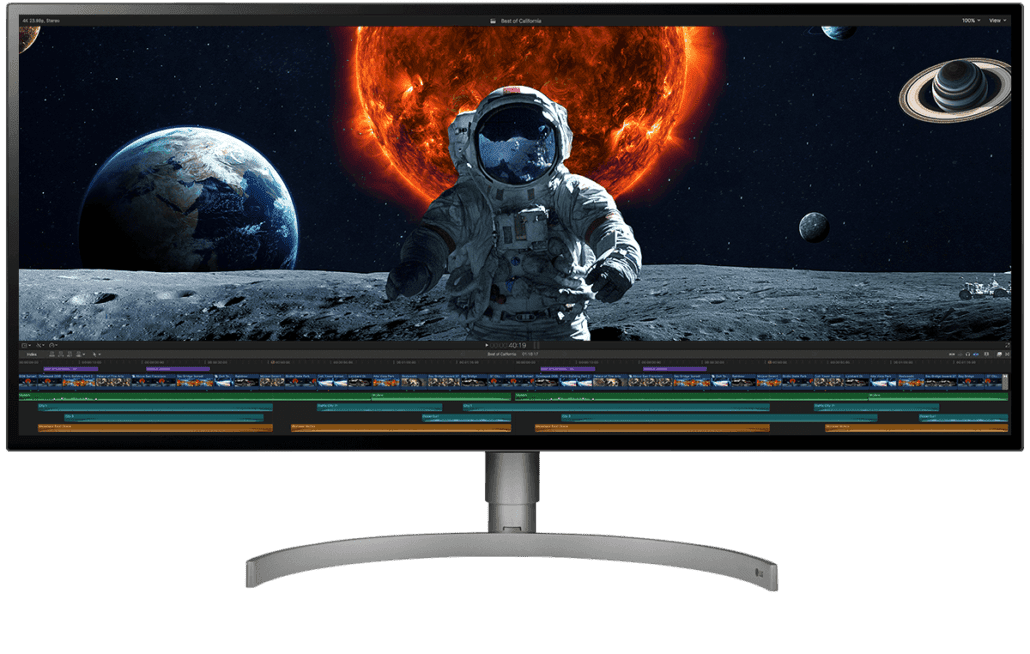 LG 34WK95U – Best Ultrawide 34″ Monitor For Music Production
Doesn't this monitor just look absolutely gorgeous and massive in the image above? If you're looking for something large, the LG 34WK95U is the best ultrawide monitor for music production.
This incredible 34″ display also features a 5,120 x 2,160 5K resolution. It's got a Thunderbolt 3 port, 2 HDMI ports, a single Display Port and brilliant colour accuracy.
If you're someone who also dabbles with video editing, this will look absolutely fantastic in both your DAW and video editing software.
---
Samsung CF791 – Best Ultrawide Curved 34″ Monitor For Music Production
If you're looking for a curved monitor, this Samsung monitor comes in at an impressive 34″ wide which wraps around your entire vision. It's got a decent 100Hz refresh rate, 3,440 x 1,440 resolution and 940:1 contrast ratio. With a VA panel, it's great for use in a dark music studio.
---
Are curved monitors good for music production?
In timeline applications, like audio and video editing, the extra horizontal space is beneficial. The additional screen real estate with curved monitors makes them good for music production, as most DAWs are capable of resizing accordingly.
Why do some music producers use two or more screens?
Some music producers like to have one screen for arrange and one screen for the mixer. It's a personal preference, and entirely up to you.
Related posts