When it comes to DAW music production, a computer monitor is an important piece of hardware as it's something you'll be staring at for long durations during a production session.
A computer monitor sits in between your studio monitors / speakers, which need to be spaced out correctly – something to think about if you're shopping for a large screen to add to your studio.
What's even more important, having the right computer monitor setup will create the right workflow and you'll be able to work through your DAW as quickly as possible.
Before purchasing any of the screens below, take note of the inputs available on your computer or laptop. It will probably use HDMI, USB-C, DisplayPort (DP), DVI or the (old) VGA.
It's important that you find a high-resolution screen, a minimum resolution of 1920 x 1080 is recommended, however you can only benefit from more screen real estate in DAW software.
A large ultrawide computer monitor (more than 40″) for music production, like the Lenovo Legion 43″, Samsung CRG9 or Dell U4919DW might take some to get used to, however the massive resolution and screen real estate will look gorgeous in your music studio.
If you choose a large ultrawide computer monitor with a high resolution, you will be able to fit tons of plugins and visualizations during a session. Ultra-wide screens are preferable.
However, some music producers still prefer a dual screen setup for music production. Just pick our a screen with a thin bezel (so there's no annoying line in between) and purchase two of them! Generally 24″ to 32″ is best for a dual screen setup.
---
Samsung CRG9 – Best 49″ For Music Production
Like things big? The Samsung CRG9 is a massive monitor, coming in at a whopping 49-inches, the same as two 27-inch QHD displays side-by-side.
It also supports a 5120 x 1440 resolution and is bright with 1000 lumens. You'll need a decent graphics card to truly take advantage of this screen. It supports HDR, 120Hz and Freesync 2.
We also liked the Dell U4919DW, which has the same resolution and size, but is a bit cheaper.
---
Viotek SUW49DA – Best Budget 49″ For Music Production
Can you believe for under $999 you can get a 49-inch ultra-wide behemoth? Viotek might be a smaller brand, but their SUW49DA monitor offers great value for money, if you can make it work in your music studio.
It runs at a native 5120 x 1440 resolution and supports a 120Hz refresh rate. The Viotek SUW49DA uses a VA panel and has 2 x DisplayPort 1.4 and 2 x HDMI 2.0 ports.
---
Lenovo Legion Y44w-10 – Best 43″ For Music Production
The Lenovo Legion Gaming Monitor features a NearEdgeless design, a more reasonable 43-inches in size and has a 3840 x 1200 resolution. It's slim, sleek and fits perfectly in a music studio.
If you think a 49-inch screen is too big, then this will be perfect for you. It connects via USB-C and also has HDMI and USB 3.0 ports. Its not the best VA panel, but it is available at a great price.
Otherwise, we can also recommend the Asus ROG Strix XG438Q 43", if you don't want a curved screen and a better VA panel.
---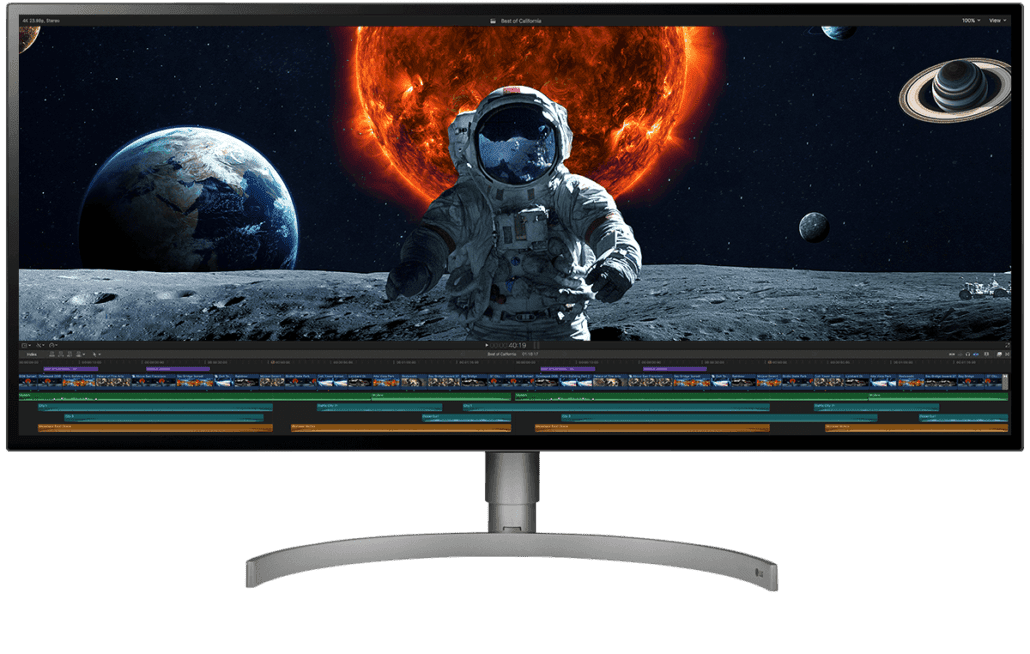 LG 34WK95U – Best Ultrawide 34″ Monitor For Music Production
The gorgeous LG 34WK95U is the best 34-inch ultrawide monitor for music production.
This incredible 34″ display also features a 5,120 x 2,160 5K resolution. It's got a Thunderbolt 3 port, 2 HDMI ports, a single Display Port and brilliant colour accuracy.
If you're someone who also dabbles with video editing, this will look absolutely fantastic in both your DAW and video editing software.
---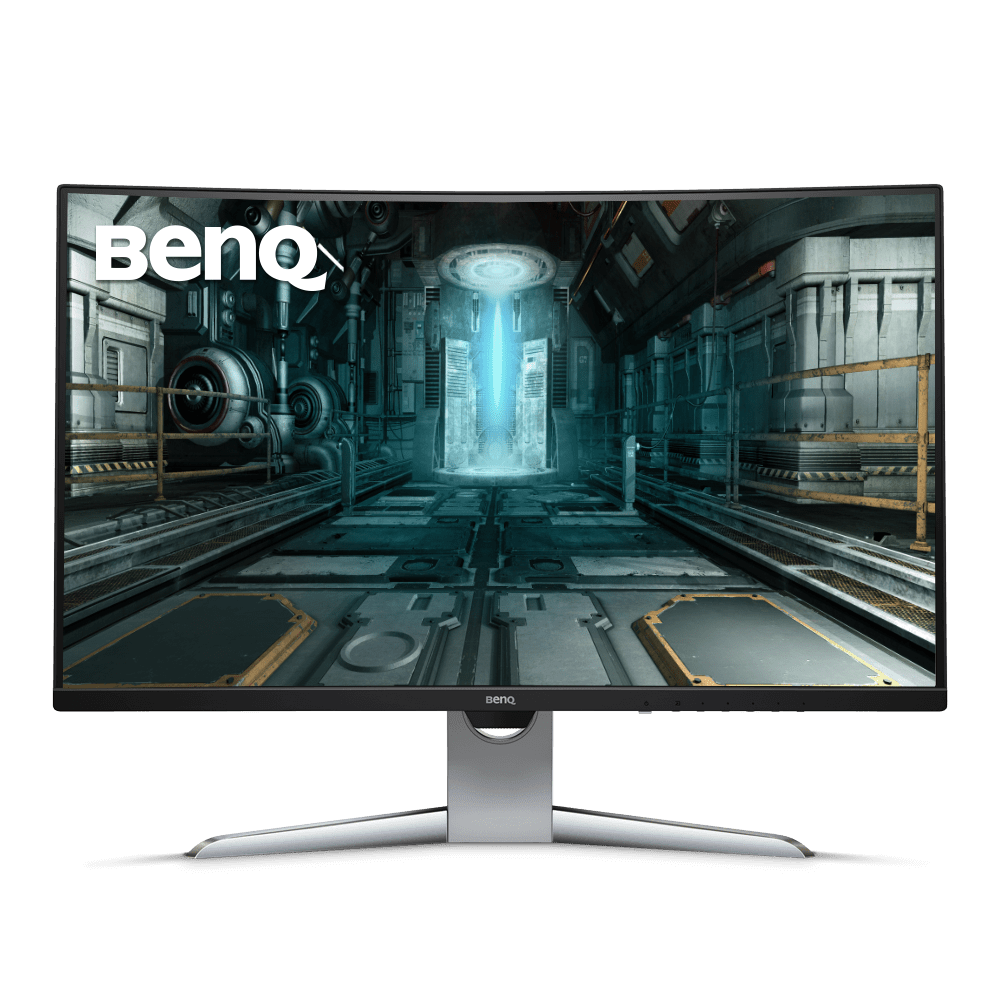 BenQ EX3203R – Best 32″ Monitor For Music Production
The BenQ EX3203R is the best 32″ monitor for music production due to its affordable price, 2,560 x 1400p resolution and 144Hz refresh rate.
If you are someone who likes to keep your music production desk neat, this BenQ EX3203R can also be powered by a single USB-C cable only, which is an added benefit.
There's also HDR support, an immersive, 1800R curvature, and FreeSync which help keep things crisp.
---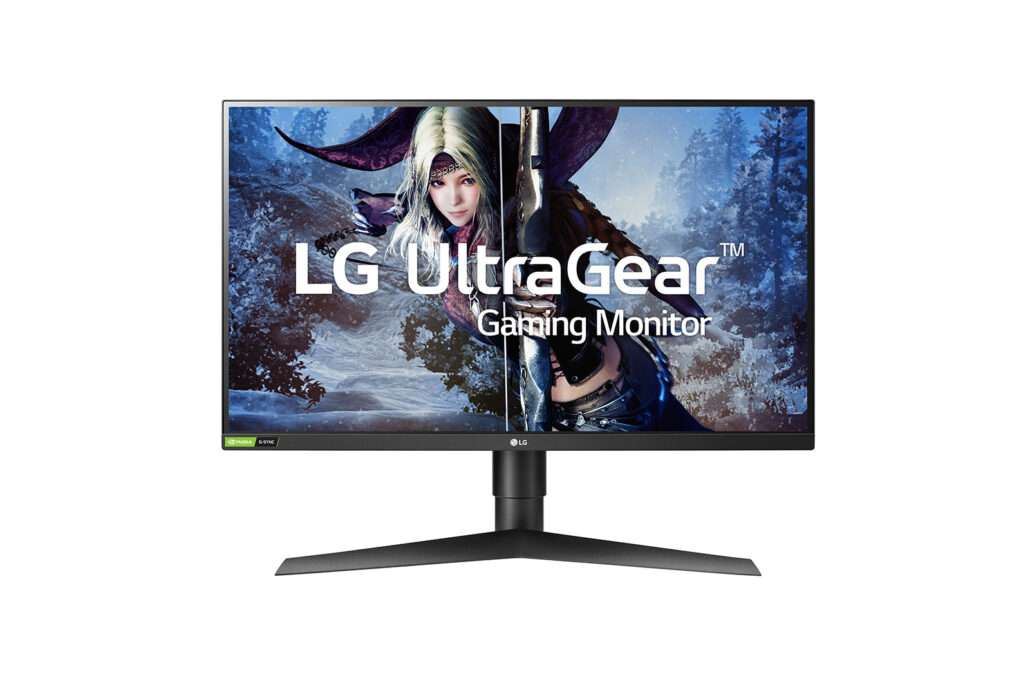 LG 27GL83A-B – Best 27″ Monitor For Music Production
The LG 27GL83A-B ticks all our boxes when looking for a new monitor. It's definitely the best 1440p 144hz IPS monitor you can buy right now.
The LG 27GL83A-B runs at a native resolution of 2560 x 1440 plus a response time of less than 1ms. I found this is great for DAW use.
The GL850 is a little better (the upgrade model), but it's hard to justify the price increase. If you're looking for something under 30″, this is the best monitor for music production right now.
If you can get your hands on a LG 27GL83A-B, grab on. It's often out of stock and often in demand.
---
Dell UltraSharp U2415 – Best 24″ For Music Production
The Dell UltraSharp U2415 might be the smallest monitor on the list, however if you don't need something huge, then this monitor with a 1920 x 1200 pixel resolution is currently an absolute steal.
Yes, 24″ might be small, but the additional pixels means you get about 10 percent more screen real estate in comparison to a regular 1080 HD monitor.
The Dell UltraSharp U2415 features both HDMI and DisplayPort connections, plus an additional five USB 3.0 ports to connect your external devices.
It's got an ultra-thin bezel, which makes a very thin gap when using this in a dual screen setup. At under $250 – what's not to like?
---
Are curved and ultrawide monitors good for music production?
Timeline applications like audio and video editing can greatly benefit from the additional horizontal screen real estate. Curved and ultrawide monitors are great for music production, and most modern DAWs are capable of resizing everything accordingly.
Why do some music producers use two or more screens?
For some music producers, having a dual screen setup is more beneficial as it allows you to separate certain parts. In general, one screen is used for arrangements and the other for the mixer. It's entirely personal preference and up to you.