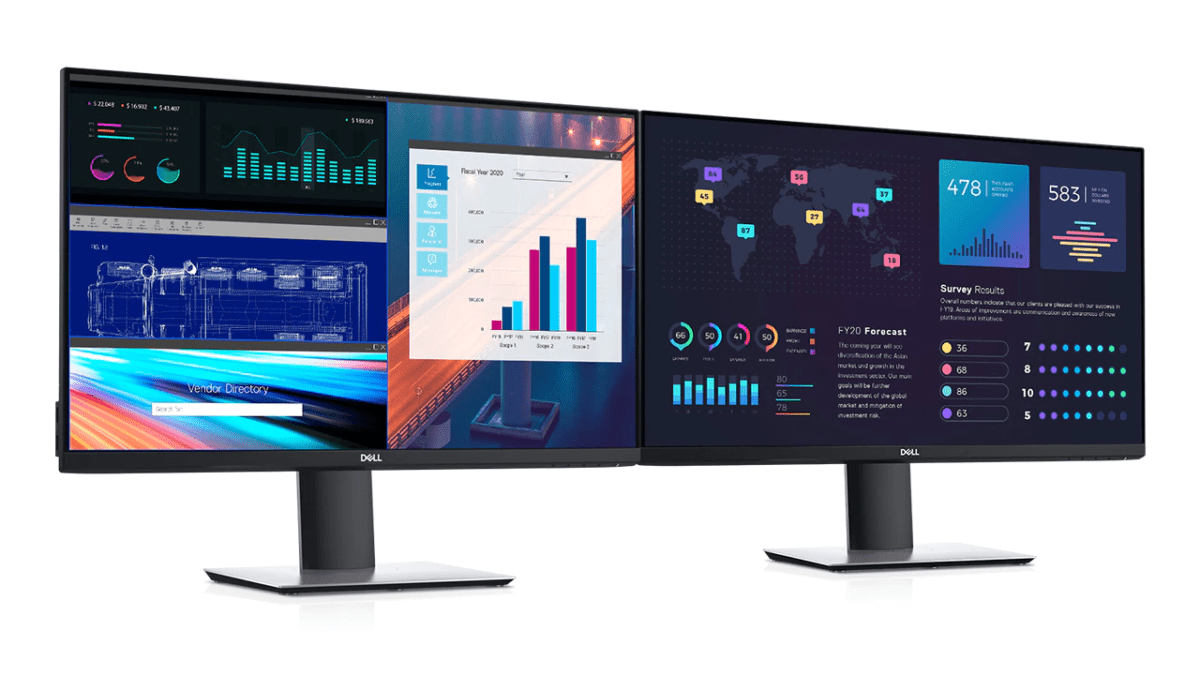 When it comes to DAW music production, a computer monitor is an important piece of hardware as it's something you'll be staring at for long duration during a production session.
What's even more important, having the right computer monitor setup will create the right workflow and you'll be able to work through your DAW as quickly as possible.
For a DAW, it's also important to get a high resolution screen so that you can fit more screen real estate. If you choose a monitor with a 4k resolution, you will be able to fit a ton of plugins and visualizations on it. In some instances, you might prefer a dual screen setup for music production.
---
Dell P2720DC
The Dell P2720DC monitor is the perfect solution for music production as it offers a combination of resolution, design and features.
At 27″ with a 1440p (QHD) resolution, it's perfect for a standard music production desk. The bezels are minimal and at the base it has a number of built-in ports including USB-C, four USB ports, two DisplayPort 1.2 ports. Even at around $350, this is a great long-term investment.
---
Samsung 27″ SF354
This Samsung 27″ 1080p monitor is an affordable option for the budget-friendly users, coming in at only $170. It's also got a decent design, glossy finish and thin bezels. It's got a few useful features including Eye Saver Mode which can come in handy during a music production session.
Check Samsung 27″ SF354 on Amazon
---
Dell Ultrasharp U2720Q
This Dell 27″ is a 4K monitor that has a beautiful design, 1,300:1 contrast ratio and 60Hz refresh rate. It's got a built-in USB hub, which comes in handy. The image is crisp and the HDR is decent. If you're looking for 4K music production monitor and something for general usage, this will do the trick.
Check Dell Ultrasharp U2720Q on Amazon
---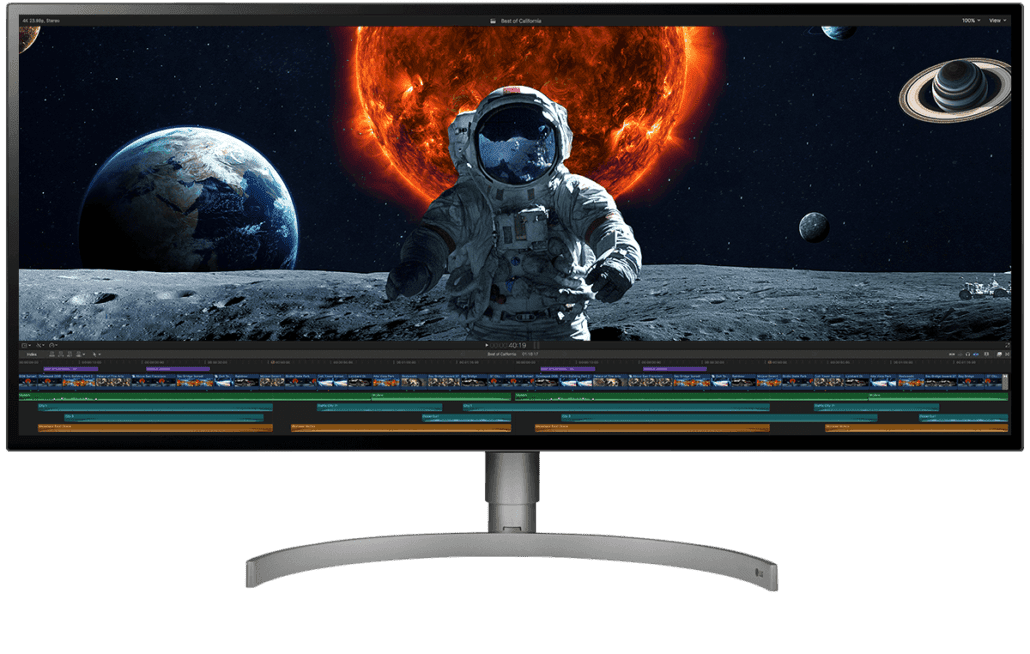 LG 34WK95U
If you're looking for an ultrawide option, this LG 34″ screen is absolutely enormous with a price tag of around $1150. On the plus side, you'll get 5K, 5,120 x 2,160 resolution, Thunderbolt 3 port, 2 HDMI ports, a single Display Port and superb color accuracy. If you edit videos, this also looks absolutely fantastic.
---
Samsung CF791
If you're looking for a curved monitor, this Samsung monitor comes in at an impressive 34″ wide which wraps around your entire vision. It's got a decent 100Hz refresh rate, 3,440 x 1,440 resolution and 940:1 contrast ratio. With a VA panel, it's great for use in a dark music studio.
---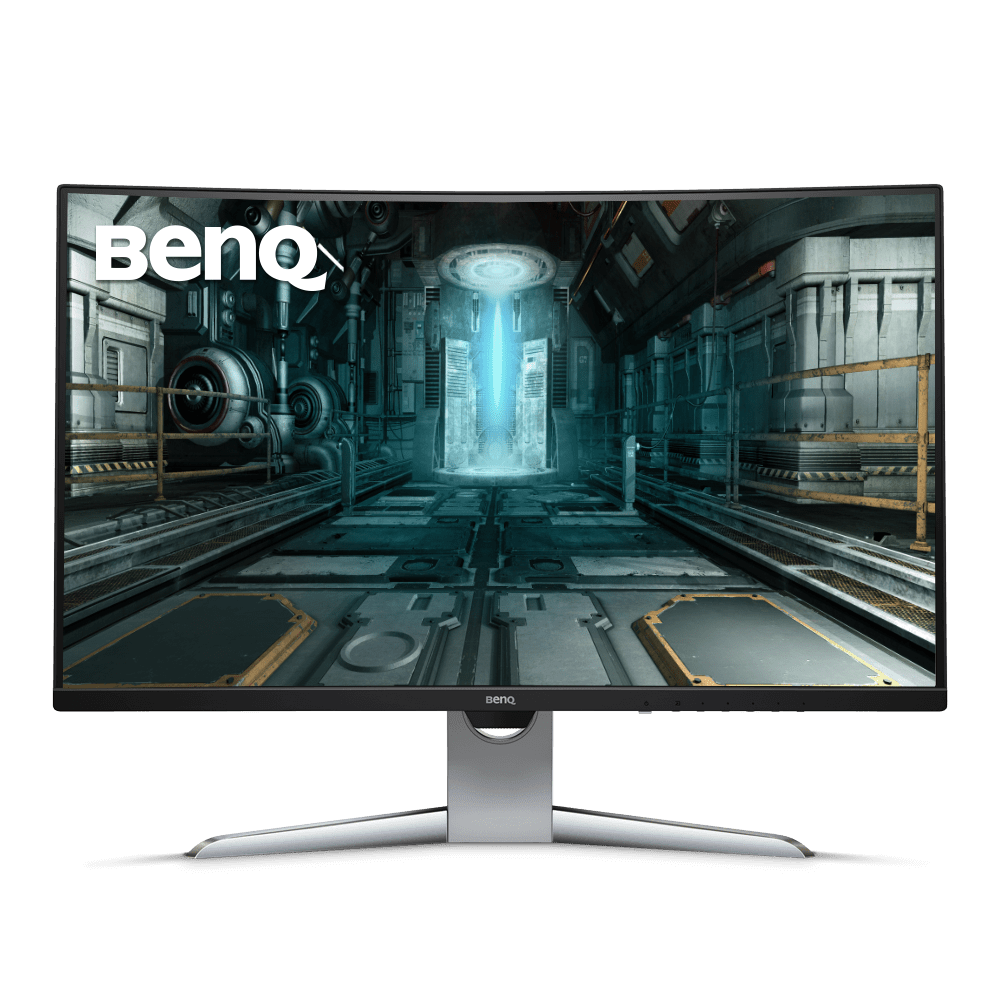 BenQ EX3203R
For a 32″ monitor, this is an affordable option if you need a big screen with a resolution of 2,560 x 1440p and an impresive refresh rate of 144Hz. If you're one who likes to keep your music production studio neat, it can also be powered by a USB-C cable only.
Are curved monitors good for music production?
In timeline applications, like audio and video editing, the extra horizontal space is beneficial. The additional screen real estate with curved monitors makes them good for music production, as most DAWs are capable of resizing accordingly.
Why do some music producers use two or more screens?
Some music producers like to have one screen for arrange and one screen for the mixer. It's a personal preference, and entirely up to you.
Related posts