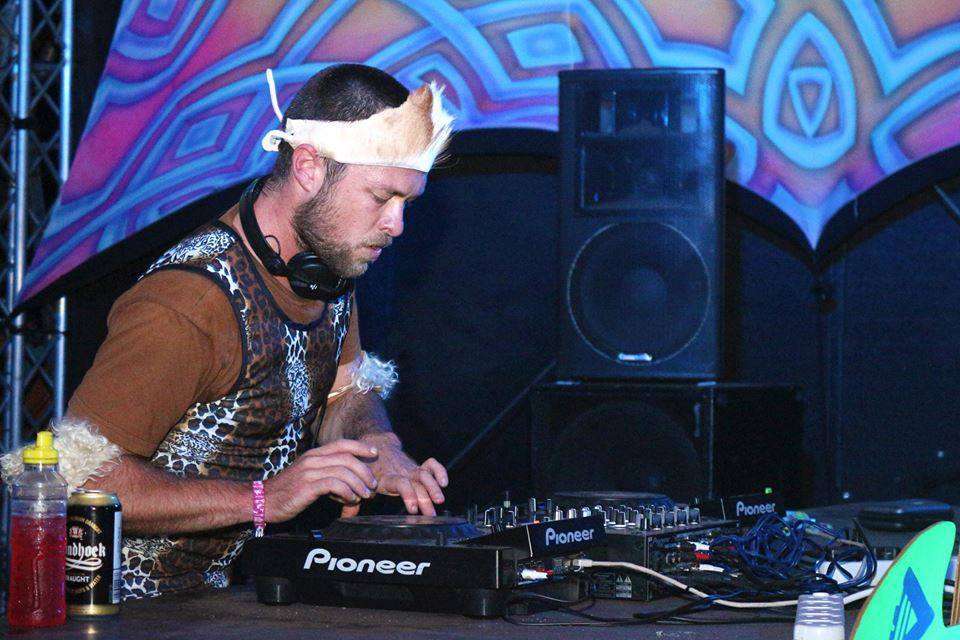 We're back with the infamous DJ Dala after posting the extended version of his 5FM mix that featured on national radio this week in preparation for Origin Festival 2014. DJ Dala's a local Cape Town resident that was brought up in the music industry, eventually making his way to behind the decks and beyond.
[soundcloud url="https://api.soundcloud.com/tracks/131777878″ params="color=00e9ff&auto_play=false&hide_related=false&show_artwork=true" width="100%" height="166″ iframe="true"/]
Psymedia : Hey Dale! To kick things off, tell me about your introduction to the psychedelic scene and how you began DJing?

Dala : Heya! Well, firstly, personally I see it as more of a culture than a scene. There is definitely a lot of partying involved, but in the bigger picture there is so much more to the psychedelic culture! Getting involved with it was a natural progression, as both of my parents were deeply involved in the local events industry. My mom on the production side and my father on the technical side. Consequently, I was lucky to get top class 'training' on all levels. Through working with them on various events, such as the original Synergy New Years Eve parties, I got to experience the magic of Juno Reactor together with the Amapondo percussion ensemble playing a proper live sunrise set on the Vortex stage. This gave me a hunger to discover more!
My upbringing also meant that there were always loads of sound tech around the house, so I was blessed with the opportunity to play around on various setups. I started with pitched controlled tape players and eventually progressed to the latest DJ gear. Some mates and I used to play around at friends' house parties and even made a couple of our own around Cape Town, from regular indoor events & little outdoor gatherings at the Grassy Patch, Chapmans Peak and Table Mountain. During this time I also started working with the bigger productions, such as Vortex, Alien Safari, Earthdance / Origin crews. As my journey continued my pure love and passion only grew stronger, and to be honest, if we did not live in this money driven society that we do now, no doubt I would work and play at these gatherings for free every time!
Psymedia : How did you form a relationship with Nano Records and what do some of your duties involve?
Dala : Originally I started working with Regan (the Nano Nanny) on his local Cape Town based events, helping with setup and stage management. At the time I was also working on a community based youth development project, for which he and Monique generously donated some much-needed start-up funding from their Earthdance / New Avenue Foundation. Soon after, my father passed away and I did not have the energy reserves to continue with the non-profit projects anymore. So, I decided some travelling was in order – to explore and experience what the rest of the world had to offer, as well as gain some ever essential self discovery. Before heading off to South America I asked Regan if he could help in any way with some contacts over there; instead he offered to add me to the label and represent Nano Records while on my adventures. That was obviously a massive help – more than I ever expected! Being affiliated with such a world-renowned collective definitely helps open many doors and with it, I was able to travel for a full year in personally uncharted lands. I did not know any of the local languages, but still managed to play gigs all over, pretty much every weekend through most of South America. Since returning, Regan has invited me to help out more with the label to take things to the next level! Currently I am helping out in various ways, but mainly with the A&R duties and putting together a VA compilation set to come out in the early part of this year.
Psymedia : Tell me about the new compilation. Is there a theme?
Dala : At the moment I am in the 'hunting phase' of putting the compilation together. I keep in contact with all my favourite producers from around the world to see what sounds they have ready or are considering to release. There is no specific concept to it at the moment, but the general vibe I am listening out for is deep funkadelic grooves that you can't help but get down and dirty too! So far I have a great selection of fresh sounds from some really amazing producers: both pioneers and fast upcoming sonic alchemists from all areas of the globe. I have been testing them out and getting phenomenal responses every time! I will be sharing a couple with you at the Origin Festival this weekend.
Psymedia : You've also recently featured on a Minimal Criminal track. Are you planning to produce anything else?
Dala : Yeah, that was good fun! To be honest, I have never really put full-time and energy into producing tunes, as I know, from previous dabling experiences, the whole world disappears around me and time just flies, which is a good thing, but also not something I have the time to dedicate to doing properly right now. I always prefer playing around in other mates studios when the moment presents itself, which is how the track with Bruno (Minimal Criminal) came about. While in Brazil I was staying at his house for a bit and that was a track he had just started up. Naturally, I ended up getting involved and added a bit of my own personal touch to it. I also started a track with Space Vision and another with Tera while I was in Brazil. I'm going to have to head back over there to finish them up soonest! One thing I did notice: even though I did not have the production experience that most others have, I was still able to offer some very valuable input and knowledge that I have picked up, from a DJ's perspective.  Of course, I plan to put in the proper time into it one day, but that time will come in good time.
Psymedia : I believe you're planning a European tour – any specific countries or parties?
Dala : When I was up in the UK for the Pearl Festival last year, I met some amazing peeps that offered to fly me back up there this year for another UK festival happening in the middle of July. So, I will be extending my flights to be able to go exploring around the rest of Europe for a couple of months. At this moment I have some gigs confirmed, but to be honest, I have been so busy over the Cape Town silly season that I have not been able to put enough good time into making more plans for the trip. I will be getting onto confirming a couple I have been chatting with and will keep my upcoming gigs list updated as they come in. No doubt, I plan on seeing as much as possible while I am up there!
Psymedia : What were some of your 2013 highlights?
Dala : Oh wow, too many to mention. The most memorable was definitely my debut tours up north to explore around the UK and also a most amazing trip to Japan (a both mind-blowing and awe-inspiring experience on so many levels!) I also had a great season here in South Africa, getting to play at some awesome gatherings in Cape Town, Joburg, the Eastern Cape and a very special trip to Mozambique for the Boogy. Besides the party side, I connected with so many beautiful people from many walks of life, including one very special lady who has stolen my heart.
Psymedia : Over the weekend you played a set on 5FM. What are your thoughts on the trance scene gaining exposure in mainstream media? Have the reports been largely positive or negative on the scene?
Dala : Well, there are two sides to this. One is that part of what makes and keeps the scene so special is that it is kept underground, so that only 'those in the know' know where to go. On the other hand the mainstream media is also a great platform to showcase the beauty that the culture has to offer – if the right messages are put out in the right way. However, what can be seen in our own Cape Town scene is that the marketing to the masses can attract 'the wrong crowd', resulting in more thefts and negative aspects being brought to our gatherings. I think there are definitely pro's and con's to it, but ultimately it exposes more people to the magic that we are so blessed to experience regularly, and the more people who can share in those experiences,  the little bit better they will become because of it.
 Psymedia : What makes Origin Festival a special one for you?
Dala : Origin really is a most special gathering in the way that it has a lot to offer at the highest international standards at all levels, but at the same time is not scattered in too many areas. This brings more unification to the gathering on the whole. Even for those who are lucky enough to attend the many amazing outdoor events, we are blessed with will find next level touches to the décor, lighting, sounds & overall production of Origin. It is definitely a highlight on the South African festival calendar with many people flying in from all over the world just to experience it.
Psymedia : Any upcoming releases you want to mention?
Dala : The much-anticipated UK Psychedelic VA compiled by the infamous DJ Tristan has just been released on Nano Records and in appreciation for all the support over the years it has been made for free download direct from the Nano Records website. Also coming up is an EP from Broken Toy, a remix album from Loud, a fresh VA from Regan and another compiled by The Commercial Hippies and an epic collaboration album from the Laughing Buddha, who will be joining us soon in South Africa for the upcoming Easter Vortex gathering.
 Psymedia : Thanks for the interview! See you at Origin Festival 2014! Anything to add before we finish off?
Dala : I'd like to say a big thanks to the Psymedia crew for the opportunity to share some sounds and words here, as well as a massive thanks to all the beautiful people in the international psy-familia who have supported me thoughout my journey thus far! I look forward to the adventures ahead! I'm very excited to share some of the freshest funkadelic grooves with ye'all on the Origin Floor for a Funday sunrise session!
CHECK OUT:
Dala on Facebook
Nano Records on Facebook
Related posts
Newsletter Updates
Fill in your information about and receive the latest updates on events in Cape Town. We won't spam you, promise.
Follow Psymedia on Social