Since everyone is stuck at home due to coronavirus, why not learn how to DJ? We have put together a list of the best budget DJ controllers that are a great entry-point without breaking the bank.
Most of them come with enough features to keep you busy and work your way up to becoming a professional performer in front of an audience. You'll just need a laptop, headphones and you're good to go!
If you've got a bit more cash to spend, also check out our best DJ controllers ($1000+) guide.
Software: Serato
The Numark Mixtrack Platinum FX is the latest Serato controller from Numark that replaces the Mixtrack Platinum, which was released back in 2016. The new model features two 6-inch jog wheels with built-in color LED displays, which is usually only found in higher-end DJ controllers. There's also a full, 3-band EQ and filter knobs, 16 performance buttons and 25-bit audio output. Numark are known for providing some of the best budget DJ controllers on the market with tasters of more premium features.
Check price & read reviews on Amazon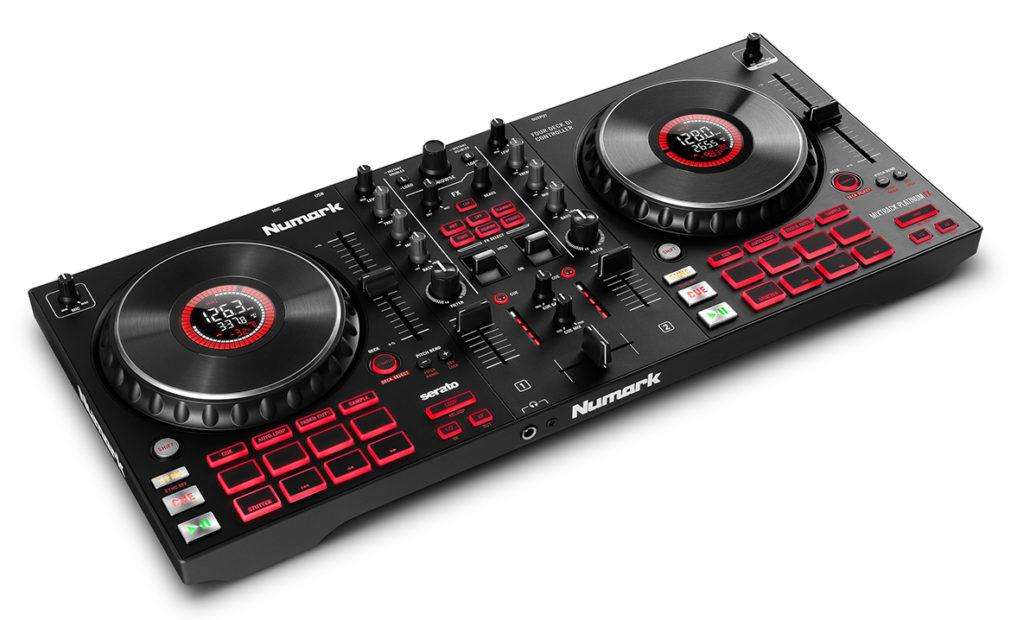 ---
Software: RekordBox
In June 2018 Pioneer launched the DDJ-400, the successor to the popular DDJ-RB controller (which is also worth checking out). This budget DJ controller features a similar layout to what you might find on club gear like the CDJ 2000 NXS and DJM mixer.
The obvious downfalls of the DDJ-RB have been corrected, like longer pitch faders for more accurate tempo matching, as well as the ability to blend the headphone mix between the master output and the headphone cue.
It includes a license key for Rekordbox, which is $129 alone (and the same as Pioneer CDJs). There's the familiar beat FX with a large on/off blue button, filters, CDJ-style looping, and more.
Check price & read reviews on Amazon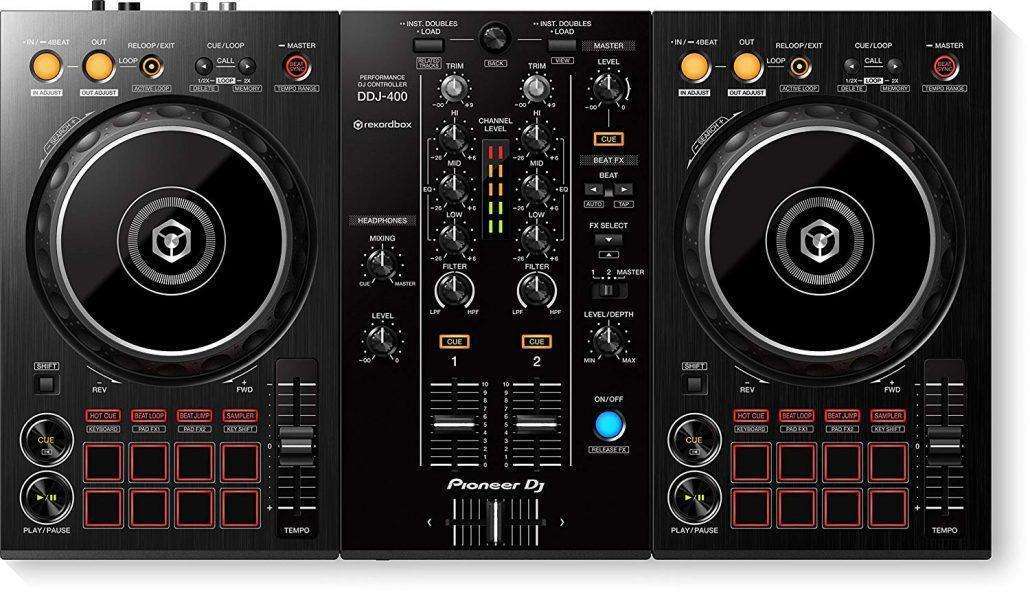 ---
Software: DJUCED / Virtual Dj
This Inpulse 300 DJ Controller from Hercules is the cheapest on the list, making it affordable to learn how to mix without investing too much.
The help of exclusive features from the DJControl Inpulse 300 and its DJUCED software: light guides on the controller to learn the right moves, the Intelligent Music Assistant (IMA) to help you pick the best songs to play, the energy feature to manage the party mood, and the DJ Academy with its onboard video tutorials. It's compatible with Virtual DJ too.
Check price and read reviews on Amazon
---
Software: Serato
The DDJ-SB3 is the successor to the popular DDJ-SB2 and is a budget Serato controller with a premium feel. The jog-wheels are reminiscent of Pioneer CDJs. It also It features 8 performance pads, a separated loop selection, scratch function. However, the controller lacks particular features like limited FX controls and no master output level metering.
Check price and read reviews on Amazon
---
Software: Traktor
The refreshed S2 Mk3 was released in September 2018 and is a welcomed update from the Mk2 from 5 years ago. The new design matches its bigger brother, Kontrol S4. This model is geared towards being mobile friendly, with a lighter weight, smaller footprint, and even has iOS compatibility.
If Traktor is your preference, this is a good budget solution as Traktor Pro 3 software is included (usually $99)
Check price and read reviews on Amazon
---
Software: Serato
Denon have been doing a fantastic job at stirring things up in the DJ market to try and dethrone Pioneer. Although the MC4000 is 3 years old it is feature-rich and practical. This is a fantastic controller for Serato software, although be prepared to shell out a bit extra for the full version.
Check price and read reviews on Amazon
---
Software: Serato
While Roland are largely unknown for DJ equipment they have a long history in musical instruments such as pianos, synthesisers and drum machines. In 2017 they launched the DJ202, an affordable controller with a an interesting bunch of unique features and a green-on-black look. This controller has built-in drum kits from Roland's legendary TR-909, TR-808, TR-707, and TR-606, realized with advanced ACB (Analog Circuit Behavior) technology.
Check price and read reviews on Amazon
---
The budget DJ controllers above are fantastic pieces of kit and perfect for beginner DJs. Even with these controllers you will be able to perform at events like a professional.
Make sure that you choose a DJ controller and software that you're comfortable with. The best budget DJ controller is simply a matter of preference.
Can't find a suitable DJ controller above? Maybe look at our Best DJ Controller over $1000 guide.
Thinking of becoming a music producer instead? Check out our guides on the Best DAW Software and Building a PC for Music Production.
What is a DJ controller?
A DJ controller is a digital device sometimes connected to a laptop running DJ software, which helps the DJ mix different music together using knobs, encoders, jog wheels, faders, and more.
What is the difference between a DJ mixer and a DJ controller?
A DJ controller is an all-in-one package for DJing that provides a compact solution. A DJ mixer is a dedicated audio mixing console, which can take inputs from CDJs, external sound cards, decks and more. A DJ controller can be used without needing a DJ mixer.
Can you use a DJ controller without a laptop?
An all-in-one controller will allow you to use a DJ controller without a laptop, however they are most costly and are covered in a different guide.
How much does a DJ controller cost?
What equipment does a beginner DJ need?
Every DJ has their own personal preference, however an essential part of your beginner DJ kit will include a DJ controller, laptop with DJ software, headphones, and monitor speakers.
Can you DJ with just a laptop?
While it's possible to DJ with just a laptop to learn the basics, a DJ controller will be much more beneficial to furthering your hobby.
Related posts